American Council on Education
Command & Staff Leadership Program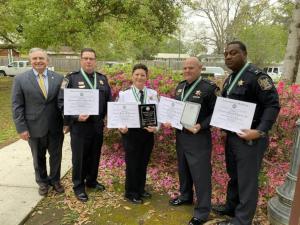 Sheriff Greg Champagne of St. Charles Parish Sheriff's Office with four graduates of the program
National Command & Staff College Secures Graduate Level College Transfer Recommendation from ACE
We are very pleased to secure this prestigious accreditation from the American Council on Education (ACE) for our Advanced Leadership Program."
— Dr. Anthony H. Normore, President, National Command & Staff College
HOLLY SPRINGS, NC, UNITED STATES, October 11, 2021 /EINPresswire.com/ — The National Command & Staff College / dba International Academy of Public Safety secures 6 hours of Graduate Level College Recommendation for its "Command and Staff Leadership" Program from the American Council on Education (ACE).
The Command & Staff Program will prepare you as part of the vanguard of today's professional policing leaders. You will learn practical skills and tools to succeed in an ever-changing dynamic environment. The class focuses on effectively resolving the challenges of an accomplished career. This session of your professional development is a blended learning experience of on-line and classroom instruction complemented to enhance your learning. Graduates of the program will leave with new colleagues, an array a diverse of faculty from which the student can continue to consult, and ways to act ahead of change to create an optimistic future for law enforcement and the communities they serve. The long-term goal of the program is to add to the leadership skill sets of each participant; it also intends to contribute to the body of knowledge of law enforcement through the completion of significant foresight-based research.
Program Objective Adopted by ACE: The course objective is to improve leadership capability through creating more self-aware leaders, including intentionally deeper investments in the human domain and aligning mission and values. Graduates will be leaders and mentors for their agency personnel, dedicated to personal and professional growth, committed to promoting open communication, shared values, and focused on mission accomplishment.
ACE Course Number: IAPS-0001
Organization Course Number: LCS-IAPS
Organization: International Academy of Public Safety
Location: Classroom-based
Length: Hybrid. 320 hours (240 hrs. on-line & 80 hrs. classroom)
Level: Graduate
Credits: 6 Hrs.
Subjects: Sociology, Leadership, or Organizational Behavior
ACE Member Universities
Register for upcoming sessions
Learning Outcomes Adopted by ACE:
Develop a personal philosophy of command
Understand the value of a peer network
Align resources with strategy, mission, vision and values of agency
Value critical thinking and values in decision making
General Course Topics Adopted by ACE:
Personal leadership
Approaches to leadership
Leadership and ethics
Taking responsibility
Communication and change
Strategic elements of building a professional culture
Versatility skills
Human factors and leadership
Leadership styles
Progressive law enforcement leader effectively managing departmental risks
The organizational change battle plan
Mastering communication
Budgeting
Personnel management
Human factors and officer wellness
Retention & recruitment
Crisis communication
Capstone research
Instructional Strategies:
Audio Visual Materials
Case Studies
Classroom Exercise
Computer Based Training
Discussion
Learner Presentations
Lectures
Practical Exercises
Methods of Assessment:
Case Studies
Examinations
Performance Rubrics (Checklists)
Presentations
Written Papers
Minimum Passing Score: B – 80%
Dr. Mitch Javidi
National Command and Staff College
+1 919-753-1127
info@commandcollege.org
Visit us on social media:
Facebook
Twitter
LinkedIn

Source: EIN Presswire